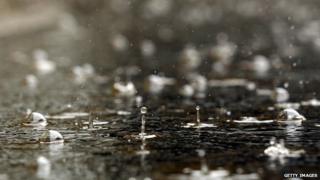 Getty Images
Heavy rain in parts of England, Scotland and Wales overnight has caused landslides and flash flooding.
Homes and roads have become flooded and riverbanks have burst in areas of south-west England, the Scottish borders and parts of Wales.
One family in Portbury, near Bristol had to be rescued from their home after becoming trapped by a small landslide caused by road-soaked earth.
The Environment Agency has issued a flood warning in South Wales and 14 flood alerts, mainly for south-west England as the wet weather continues.