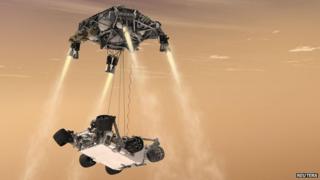 Reuters
NASA say the Curiosity rover they have sent to Mars is ready for landing on the planet on Monday.
Curiosity was launched from Earth back in November and is now near the end of its 570-million-km journey across space.
The rover needs to hit a specific target in a big crater, and to do that the machine must enter the atmosphere at a very precise point.
It will be used to study the rocks inside Gale Crater, one of the deepest holes on Mars, for signs that the planet may once have had life on it.
Full of robotic tools to brush and drill into rocks, to scoop up, sort and sieve samples, Curiosity is the biggest, most sophisticated Mars rover yet.
It is due to touch down at 06:31am GMT on Monday 6th August.