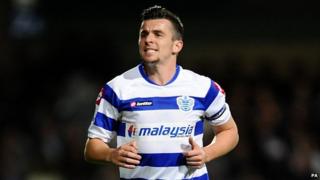 PA
Joey Barton looks set for a surprise six-month loan deal with Fleetwood Town, the newest club in the Football League.
The former England international is due to serve a 12-game suspension after being banned for violent conduction. He was sent off for QPR in the final day of the season in a match against Manchester City.
Fleetwood Town play in League Two, that's three divisions lower than QPR in the Premier League. If the deal goes ahead, he could make his league debut in October.
The 29-year-old has been training with Fleetwood since July. It's thought that Barton has several mates in the team, including a close friendship with forward Andy Mangan.