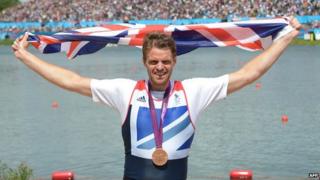 AFP
British rower Alan Campbell has won a bronze medal in the singles sculls final.
It was a tight race for 3rd place with Britain and Sweden neck and neck, but Alan managed to edge ahead and took bronze in 7 minutes and 3 seconds.
Winning the gold medal was New Zealand's Mahe Drysdale and Ondrej Synek took home the silver medal for Czech Republic.
After the race, Alan was so exhausted he collapsed for a few minutes.