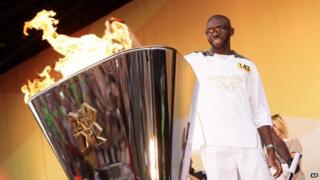 AP
Fabrice Muamba has revealed he played football again just two months after collapsing on the pitch.
The Bolton Wanderers player collapsed with a heart attack during an FA cup match in March against Tottenham.
Now he's revealed that he played football when he went on holiday to Dubai in May.
He said, "I was on holiday and I was staying in a hotel and there were quite a few footballers in the hotel as well.
"The staff usually play against the visitors so I was by the pool and I heard they were playing football.
"Then I went across and saw other footballers playing and I told my friends and Shauna - I told her 'I am sorry but I am going to play football.
"She goes 'are you sure?' and I say 'yes' and I just went in there.
"I just went in through the groove and played for about 20-25 minutes. It was just playing like normal, it was just playing like I was training. It was great, I enjoyed it."