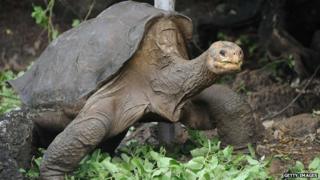 Getty Images
A doctor saved the life of his son's pet tortoise - by giving it mouth-to-mouth for over six minutes.
Ben Waterfall found Atlas floating upside down in a bowl of water in his back garden.
He quickly realised the tortoise had stopped breathing and put all his medical skills in to practice.
He gave Atlas the kiss of life until he blinked and coughed up a little lungful of water.
"I first started doing it and I had my mouth over his whole head, mouth, nose and nostrils," he said.
"I did six minutes of mouth-to-mouth before he slowly started breathing and blinking. I was quite emotional at the time."
After the rescue, Dr Waterfall took Atlas to the vets, where he was given some antibiotics.
He has since made a full recovery.