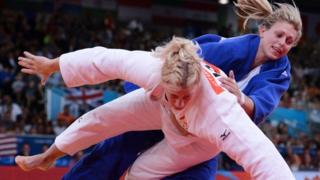 Getty Images
Gemma Gibbons has won silver medal for Team GB in Judo.
She's become Great Britain's first Olympic judo medallist for 12 years.
She was up against American Kayla Harrison in the final, but had to settle for silver after Harrison landed two yuko scores.
A yuko is awarded for a throw that lands your opponent onto their side, or for a hold on the ground.
It's been an amazing tournament for Gemma who competes in the 78kg category. She beat French world champion Audrey Tcheumeo on her way to the final.
After the match she said: "I can't really believe this. It's crazy. It's only just beginning to sink in."