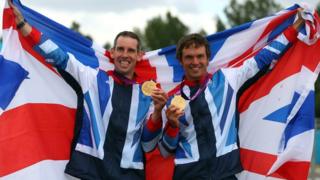 Alexander Hassenstein
Team GB won 3 gold and 3 silver medals in one of their best ever days at an Olympic games.
The day 6 gold rush started with Canoeing, ended with Cycling with trap shooting in the middle.
The silvers came in Judo, canoeing and rowing - meaning Great Britain shot up from 11th to 5th in the medal table.
The big gold of the day though, was Sir Chris Hoy - as it was his...wait for it...record equaling...5th!
'Super Saturday' was the most successful day for Great Britain at the last games in Beijing, when they won four gold medals, a silver and four bronzes.
Will this been known as 'Terrific Thursday'?
It all started with the rowing at Eton Dorney - where the men picked up silver in the lightweight four.
Peter Wilson then went one better, winning the trap shooting and bringing home the host countries fourth gold medal.
Then came gold and silver in the men's canoeing C2 slalom - Tim Baillie and Etienne Stott winning overall. Gemma Gibbons then brought home silver in the Judo.
But it was on the first day of the track Cycling that GB really dominated - yet again running the show on two wheels.
Sir Chris Hoy, Jason Kenny and Philip Hindes not only won gold in the men's team sprint, but broke the world record - twice!
Experts think that Friday could be a 'Fantastic Friday' with Great Britain standing a good chance of taking home FOUR golds.
They looked brilliant in the heats for the men's pursuit cycling and Rebecca Adlington is back in the pool in the 800m.
Rowers Katherine Grainger and Anna Watkins in the women's double sculls, and the women's cycling Keirin are tipping to do well.
Could it all mean GB move even higher up the medal table?