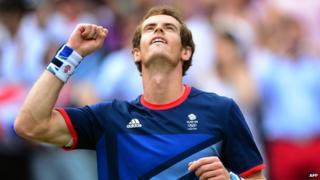 AFP
Andy Murray is one step closer to an Olympic medal. He beat Spain's Nicolas Almagro to go through to the semi-finals.
Murray almost made it look easy taking out his opponent in just under an hour.
The Duke and Duchess of Cambridge watched at Wimbledon as he won in straight sets 6-4 6-1.
He'll play either Novak Djokovic or Jo-Wilfried Tsonga in the next round.
If he manages to win that match he'll play for either the gold or bronze medal on Sunday.
Murray has been on great form in the singles competition and seems to have shaken off his Wimbledon blues from the summer.
He's also teamed up with Laura Robson for the mixed doubles, they'll be kicking off with their first match today.