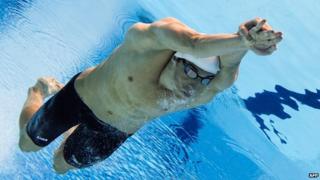 AFP
When swimmer Michael Phelps won a gold medal on Monday he became the athlete with the most Olympic medals in history.
In his cabinet are 15 gold medals, two silver and two bronze. Not bad for someone who's only 27!
And it's not just fellow athletes and fans who are impressed. The President of the United States decided to pick up the phone to congratulate him.
Afterwards, Phelps described the moment he got the phone call.
"The craziest thing was just when I answered the phone and they were like, 'Michael?', and I said 'Yes'. They said, 'Please hold for the President of the United States', and I was like, 'OK!'
"He just got on and was saying how everyone is supporting me and is behind me at home and how proud everyone is of me. That was pretty cool.
"And he finished by saying, 'Make sure you tell your mom I said hi' - it was a good call."