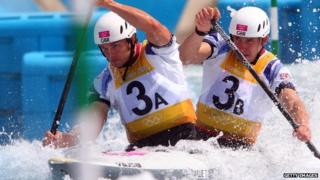 Getty Images
Team GB have won a gold AND silver medal in the canoe slalom final.
Brits Tim Baillie and Etienne Stott won the gold medal, and David Florence and Richard Hounslow won the silver medal.
Baillie and Stott were first to go in the final and set the fastest time of the day. No other country had beaten their time when Florence and Hounslow went last.
They knew they were at least guaranteed a silver but won the gold when Florence and Hounslow couldn't beat their time.
Canoe slalom is one of the more unusual sports in the Olympics. Athletes have to make their way through white water rapids going up and down stream and try and complete the course in the fastest time.
It's the first time Great Britain have won a gold medal in canoe slalom and comes after two disappointing days at the Lee Valley white water course, where Britain had failed to reach the individual finals.