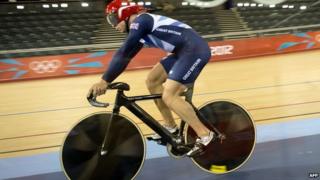 AFP
Team GB cyclists have found an unusual way to keep their muscles warm - by wearing battery powered pants.
The trousers, which are being used by Team GB cyclists including Chris Hoy and Victoria Pendleton have heated strips in the fabric which keep their legs warm.
After the cyclists finish their warm up, they put the pants on over their racing clothes to keep their legs toasty before they start racing.
Experts spent three years developing the technology and found that by keeping muscles warmed up, cyclists had more sprinting power when they started racing.
The special pants have been developed by teams at Adidas, British Cycling and Loughborough University.
Lets hope they help Team GB cycling team bring home some medals!