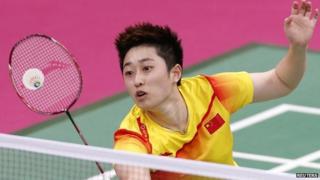 Reuters
A Chinese badminton player disqualified from the women's doubles event at the Olympics has said she is quitting the sport.
Yu Yang along with her partner Wang Xiaoli were among eight players disqualified for not trying hard enough to win their matches.
Yu Yang has said her dream has been "heartlessly shattered" and went on to say, "This is my last time competing. Goodbye Badminton World Federation; goodbye beloved badminton."
All four of the badminton pairs from China, South Korea and Indonesia were seen making basic errors in matches on Tuesday.
A change to the way the badminton event is organised meant that loosing their match would have meant facing an easier team next time.
They were charged by the Badminton World Federation and disqualified from the women's doubles competition on Wednesday.
The Chinese badminton coach, Li Yongbo has apologised for the performance of his players and said, "we didn't fully demonstrate the fighting spirit of the Chinese badminton team."