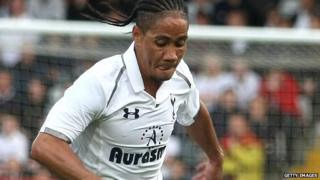 Getty Images
Midfielder Steven Pienaar has completed a £4.5 million move back to Everton.
The South African player joined Tottenham just 18 months ago for a reported £3 million.
Now 30-year-old Pienaar has signed a four-year deal after returning to Goodison on loan in January.
"There was no doubt in my mind that I would be back here," said Pienaar.
"At the end of the season I told the manager how I felt and I am happy now."
Pienaar joined Everton from German club Borussia Dortmund in 2007 and spent three-and-a-half seasons at Goodison Park before leaving for Tottenham in January 2011 .