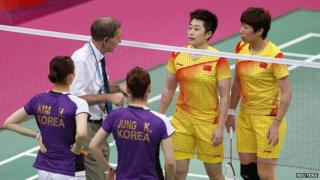 Reuters
Eight Olympic badminton players have been disqualified from the women's doubles competition.
The women from China, Indonesia and South Korea were accused of deliberately trying to lose their games so they would face easier opponents in the next round.
Crowds at Wembley Arena booed the players when it appeared they were playing badly on purpose.
The Chinese team said they just wanted to save their energy for the knock out matches but now all four pairs have been disqualified.
But the ladies haven't been thrown out of the Olympics completely - they can still compete in the singles and mixed doubles tournaments.
Should players always try their hardest or are tactics like this acceptable?
We asked you what you think and here's a selection of your comments.
Your comments
"I think that China, South Korea and Indonesia should be banned from playing badminton. They should play it fair and try to win, not lose on purpose. They are letting everyone else down, especially their country!"
Jessie, Bolton, England
"I think that it was best for them to be disqualified because to let your country down just to get an easer match is silly. The audience paid money to watch the match."
Katie, Devon, England
"I don't understand why someone would practice all those years to throw the game away. All athletes should try their best and make their country proud!"
Tash, Cambridge, England
"The Chinese team are making excuses. They can always rest after the match. They should play properly if they want to take part in the Olympics."
Jessica, Birmingham, England
"From my point of view the players were being immature and stupid. No matter where you are or what you are doing, you should always try your best."
Rebecca, Bradford, England
"You've got to play fair and if you lose you improve next time. That's tough luck."
Lewis, Portsmouth, England
"I agree with the IOC's desicion. They shouldn't try to lose, because that's not the true spirit of the Olympics!"
Keerthi, East Yorkshire, England
"I think it is a silly idea that the teams purposely did that. I don't think that they should play in the Olympics if they don't try!"
Naima, London, England
"I think you should always try your hardest at everything you do, from getting your country a gold medal in the Olympics to doing an easy maths question!"
Sophie, England
"The athletes have been selected to represent their country and lots of other people would have wanted to represent the country so they are taking up valuable spaces and making their own countries look bad. Also people who were watching the event have wasted their money on people who are not putting effort in - they should be disqualified."
Alisha, Kent, England
"I think they should be disqualified you should always try your best!"
Harriet, Devon, England
"If you want to play a sport, play it fair and face the opponents of your ability not easier ones. Also you have to try your best at everything and put 100% in. The players didn't follow this principle therefore they should be disqualified."
Asha, Manchester, England
"The badminton players were not bothered to play so the audience wasted their money. I think they should be disqualified and should be charged with a fine according to how much the tickets cost."
Joshua, Hackney, England
"I think that athletes should always try to win because their entire country is supporting them and they're lucky to be chosen to play in that sport representing their country."
Mitchell, Sheffield, England
"I think it's silly that they were charged! You can't force your body to do more training otherwise you might do worse because all your muscles will be tired out! If you have proof that they didn't try then it's a different story."
Ebony, England