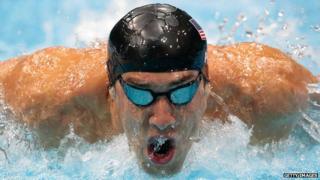 Getty Images
Swimmer Michael Phelps has set a new record for winning the most amount of medals at the Olympic Games.
The American broke the all-time medal tally after winning silver in the 200 metre butterfly and gold in the 4x200m freestyle relay on Tuesday.
The 27-year-old now has 19 medals in total; 15 golds, two silvers and two bronze over three Olympic Games since 2004.
Phelps overtakes Soviet gymnast Larisa Latynina who has 18 medals.