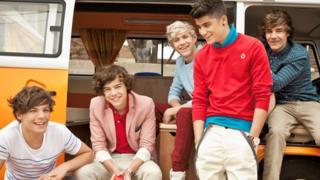 Syco
One Direction will perform at this year's MTV Video Music Awards in the United States.
The band is really popular in the US and in March they became the first British group to ever top the US chart with a debut album.
The VMA ceremony is famous for some memorable pop moments. In 2010 Lady Gaga turned up to the ceremony wearing a dress made of meat!
As well as performing, One Direction will be hoping they win two MTV awards.
They're nominated in the Best New Artist and Best Pop Video categories.
They'll battle The Wanted, Frank Ocean and Carly Rae Jepsen for the title of Best New Artist.
The ceremony takes place on 6 September in Los Angeles.