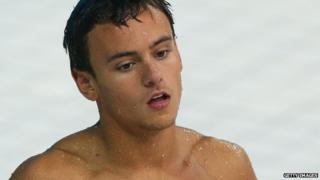 Getty Images
A 17-year-old has been arrested after abusive messages were sent to diver Tom Daley on Twitter.
Tom Daley and his diving partner Pete Waterfield narrowly missed out on a medal in the men's synchronised diving on Monday.
Shortly afterwards Daley received a tweet which said "You let your Dad down. I hope you know that."
Daley's dad Rob died from cancer last year.
Tom responded, saying: "After giving it my all... you get idiots sending me this."
Dorset Police have confirmed they are investigating the incident.