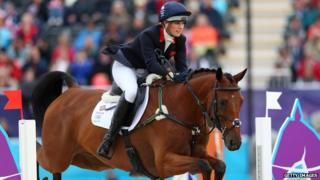 Getty Images
The British equestrian team has won a silver medal at the Olympics.
The Queen's grand-daughter, Zara Phillips, rode as part of the team that took second place in the equestrian Team Eventing.
The German team won gold and New Zealand the bronze.
Tina Cook is one of the other riders in the team she said "The team has done so well and it was so close, we could have got silver or nothing, and that would have been awful."
"Gold would have been brilliant, silver is fantastic."
She was really pleased and thankful because her horse Miners Frolic almost died last year but recovered enough to compete.