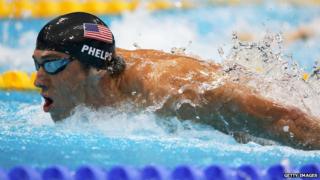 Getty Images
Olympic swimmer Michael Phelps is on course for a historic hat-trick at London 2012.
The American is hoping to win the Olympic 200m butterfly gold medal for the third time.
If he defends his title he will be the first man to win the same swimming event at three games in a row.
He won his semi-final and has his eyes on yet another gold: "The only thing that mattered was reaching the final and I want to win."
So what do we know about one of the world's most successful Olympians?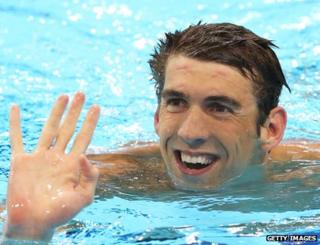 Getty Images
Who is Michael Phelps?
He was born in the US state of Baltimore in 1985.
He holds the record for the most Olympic gold medals, he has got 14 in total, and won eight of those in one games.
He's won loads of awards and is looking to beat the record for the most medals set by Russian gymnast Larisa Latynina. She won 18 medals in total.
He's already picked up a silver medal at London 2012 with his team in the 4x100m relay.
He's 6 foot 4 tall (1.93m) and has size 14 feet. He trains hard, practising up to five hours a day in the pool.
When he's not in the pool he likes to relax by sleeping or playing video games. He likes hip hop and is a big fan of Basketball player Michael Jordan.
He has two sisters and a pet dog called Herman.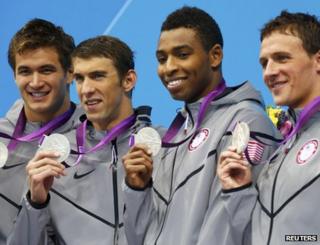 Reuters