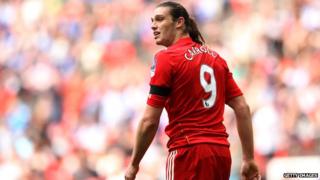 Getty Images
West Ham have agreed a season-long loan deal with Liverpool for striker Andy Carroll.
The £2 million deal could result in a £17m transfer at the end of the campaign, if the Hammers stay in the Premier League.
It is thought that 23-year-old Carroll does not want to leave Liverpool permanently.
Liverpool paid £35m for Carroll in January 2011 and have already rejected Newcastle United's bid to re-sign him.
Andy Carroll career stats
•Newcastle (2006-11): 91 games, 33 goals
•Preston (loan Aug 2007-08): 12 appearances, 1 goal
•Liverpool (2011-present): 56 appearances, 11 goals
•England (2010-present): 7 appearances, 2 goals