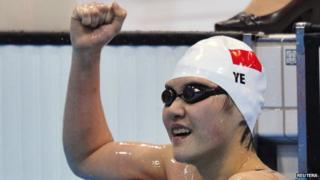 Reuters
A Chinese swimmer accused of taking drugs to help her win has denied it.
Gold medallist Ye Shiwen, who is 16, finished her race so fast that some people are saying she must have cheated.
She completed the last 50m of her 400m medley final in a quicker time than the winner of the men's final did.
An American coach said her record breaking win was 'disturbing' but she says there is 'no problem with doping' on the Chinese team.
Ye said that her "results come from hard work and training" and that she "would never use any banned drugs".