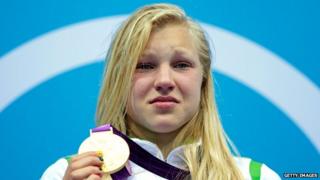 Getty Images
A 15-year-old girl has won an Olympic gold medal for swimming.
Ruta Meilutyte won the women's 100m breaststroke final beating the silver medallist from the Beijing Olympics American Rebecca Soni.
She moved to the UK from Lithuania three years ago and goes to the same school as Tom Daley in Plymouth.
It is the first ever gold medal for Lithuania in the pool and the first medal for the country at London 2012.
She was so shocked she had won that she could hardly speak.
After the race she said, "I can't believe it, it's too much for me."
Her coach Jon Rudd said "She is a talented and vigilant worker. When you've got talent and work ethic you've got a great kid."
And it's not over yet for her, she is also competing in the women's 50m and 100m freestyle.