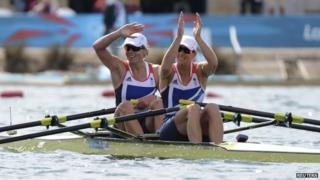 Reuters
British rower Kath Grainger looks on course for gold at last - after having to settle for silver at the past THREE Olympics!
Kath and her partner Anna Watkins powered to the double sculls final by breaking the Olympic record during their heat on Monday.
"We're very lucky to have this incredible support from around the country," said Kath of the home crowds. "It lifts you like nothing else."
The final takes place on Friday.
The pair are reigning world champions and have been unbeaten ever since they started competing together in 2010.