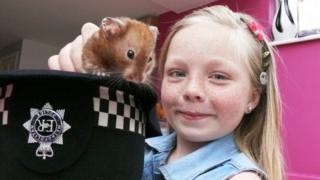 Met police
Talk about an adventure - this hamster was rescued by police after falling from a first floor window onto a car bonnet and then getting chased by cat!
Rolo fell after escaping from his cage, which is on a window ledge, during the night.
Luckily, police officers in Beddington, London, were in the area and spotted Rolo being chased by a cat in the road.
So they distracted the pussy before safely capturing the hamster by throwing a police hat over him!
Rolo was reunited with his owners after officers did some detective work and spotted a house with a hamster cage and a 'Beware of the hamster' sign!
The family had all been asleep so were completely unaware of Rolo's mini adventure!
Police officers came to the rescue of 'Rolo' the hamster at 23.30hrs last night (26th July) after he had fallen 12ft from a first floor window onto the bonnet of a car - and was then chased by a black cat.
PCs Helen Hansen and Dave Kadwell had just dealt with a call in Tritton Avenue, Beddington, when they caught sight of a cat chasing a hamster around the road.
"I can't believe this tiny hamster has survived a drop like that."
After waving their arms to deter the cat from its chase, the officers began a pursuit of their own in the middle of the night - trying to catch the hamster who was darting under parked cars and around wheelie bins left out for collection.
After a few minutes - and 75 yards away at the opposite end of this quiet residential cul-de-sac to where the hamster had fallen - PC Hansen threw her police hat over the top of the hamster and scooped it up.
The officers checked a number of houses in Tritton Avenue until they came across one house with a hamster cage and a 'beware of the hamster' sign in a first floor open window. Then the one-year-old hamster was quickly reunited with its owners, the Rook family - Mum, Dad and two children - who had been asleep in bed and knew nothing of the hamster's escape. The hamster's cage is on the first floor window ledge and Rolo had escaped after the tube at the back of the cage had come loose.
Sgt Rob Bourne, who was in charge of the officers last night, said: "It seems 'Rolo' had escaped his cage, fallen from the window, landed on a car bonnet in the driveway then stumbled into a cat before being saved by the officers. Rolo had quite a night!
"Our Borough Commander Guy Ferguson wants us to surprise and delight residents - and we certainly did surprise and delight this household last night."
Sgt Bourne added: "I've been in the job 12 years and never been required to deal with anything like this before."
Mum Debbie Rook said she was 'flabbergasted' by what had happened. "I can't believe this tiny hamster has survived a drop like that. Until police knocked on the door we did not know he was missing." The hamster belongs to her son Bradley, aged 13. She also has a daughter Milly, aged eight. "We are grateful to police for coming to he rescue," said Debbie.