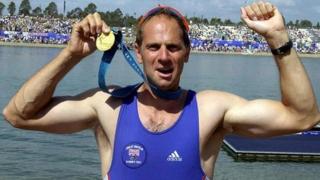 Olympic Memories: Sir Steve Redgrave remembers his five gold medals
Some of the country's best athletes have been telling Newsround what it's like to be part of the biggest sporting event in the world, the Olympic Games.
Sir Steve Redgrave is a rowing legend, to put it mildly. He's won a gold medal in five - yes five - Olympic Games, one after another. His first gold was back in 1984 and his last was in 2000, after which he decided it was time to retire.