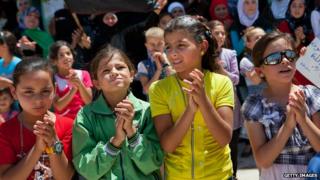 Getty Images
Around 200,000 people have fled Syria's second city Aleppo in the past two days, because of the intense fighting there the UN has said.
One of the UN's top women, Baroness Valerie Amos, said others were trapped in the city and needed urgent help.
Those still there are facing food shortages and power cuts.
The fighting in Syria has been going on for over a year now, between rebels who want President Basher Al-Assad to step down and those who support him.
The UN estimated that over 10,000 have died in the violence so far.
Rebel and army forces have been clashing in the streets of Aleppo as each side tries to gain control of the city.
The fighting has got worse and worse and the government has sent thousands of troops and tanks to try to recapture the neighbourhoods it has previously lost.
Many people had fled their homes to take shelter in schools and other public buildings.
In the space of a week Aleppo has become the main battleground in this conflict.
The city is the largest in the country and its business capital, so neither side wants to lose here.