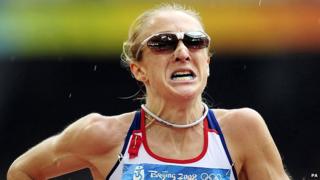 PA
Paula Radcliffe has pulled out of the Olympics with a foot injury.
The 38-year-old withdrew from the marathon, putting an end to her chances of ever winning an Olympic medal.
It is not yet known whether this latest injury setback means Radcliffe will retire from the sport altogether.
"Now is the time to rest totally, give my body chance to recover and assess calmly what can be done and where I go from here," she said in a statement.
Despite being Britain's most successful marathon runner, Radcliffe has never medalled at an Olympic Games.
In 2000 she finished fourth, in 2004 she was injured and had to pull out during the event, then four years later she ran despite fracturing a bone in her leg.
Radcliffe is the current marathon world record holder and a former marathon world champion. She has also won European and Commonwealth Games gold in the 10,000m and 5,000m.
She is also known for her anti-drugs stance in the sport.