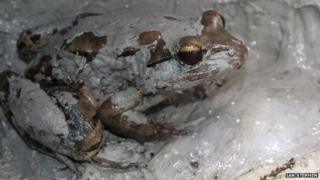 Ian Stephen
A group of rare tropical frogs rescued from a killer fungus in the Caribbean have successfully bred in the UK.
The mountain chicken frogs are one of the biggest species of the animal.
But they were almost wiped out by a disease carried by the chytrid fungus which stops them from getting any oxygen.
Twelve of the frogs were brought London Zoo where they were part of a special breeding programme.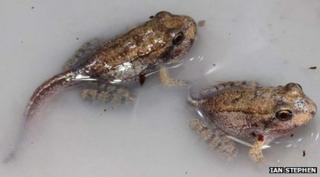 Ian Stephen
So far the two female mountain chickens have had 76 babies between them.
Scientists hope that if they stay healthy and make it to adulthood they'll be able to take them back to their home in the Caribbean.
Similar programmes to save the frogs are being run in Jersey and Sweden.
Experts say that the spread of the chytrid fungus is one of the biggest threats to amphibians around the world, so far 500 species have been affected by the disease.