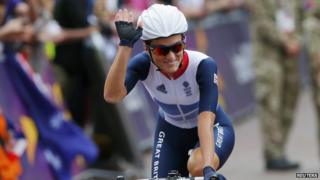 Reuters
Team GB have won their first medal of the London Olympic Games.
23-year-old cyclist Lizzie Armitstead came second in the women's road race and bagged herself a silver medal.
Marianne Vos from the Netherlands won the gold after an amazing sprint to the rain-soaked finish line.
Team GB's Nicole Cooke who took gold in the road race four years ago in Beijing finished in 31st position, while the other British rider Emma Pooley finished 40th.
Armistead was roared through the final stages by a huge home crowd, but just didn't have enough speed at the end to win.
On the support she received from British fans, Armitstead said: "It is the most special thing I've ever experienced in my life. It's so crazy and so inspiring. It was absolutely amazing. I didn't even feel my legs, it was just so special."
GB cycling coach Dave Brailsford was delighted with the 23-year-old from Yorkshire.
"Lizzie rode the perfect race but she didn't quite have the legs to finish. She was so strong and it was a magic performance. She deserves it though because she has worked so hard and I am delighted for her."