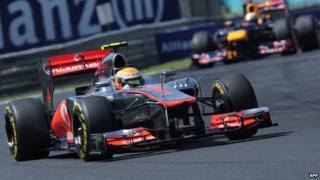 AFP
Lewis Hamilton has won the Hungarian Grand Prix.
The team McLaren driver led throughout the race but had to fend off a fierce challenge from Lotus driver Kimi Raikkonen.
It's Hamilton's second win of the season.
After the race he said, "It is great to finally see the upgrades working and I have been able to put the car where I want to this weekend."
Hamilton's McLaren team mate and fellow Brit Jenson Button only managed to finish in sixth place.
The next race of the season will be in Belgium at the beginning of September.