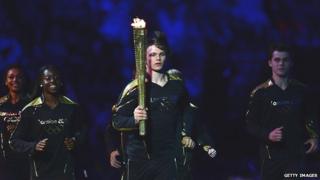 Getty Images
How good are you at keeping secrets?
Well Aidan Reynolds, one of the seven young athletes who lit the Olympic cauldron at the opening of the games, didn't tell his parents what he was up to.
The 18-year-old from Shropshire was sworn to secrecy after being given his special role in the ceremony.
His family only found out what he was up to after seeing him on TV.
Aidan's family were pretty surprised when he was first asked to be involved.
His mum Teresa said "When he first got the phone call to ring his coach about the Olympics we thought it was a spoof.
"We never dreamed he would be lighting the cauldron, though. We thought he would be one of the angels on the bikes."
Aidan's grandparents didn't see his big performance because they thought they'd missed him so went to bed!
Aidan was picked to take part by Lynne Davies who captained Team GB at the Moscow Games in 1980.