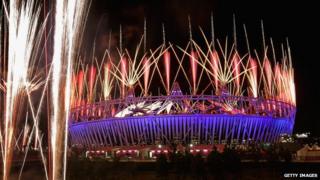 Getty Images
Almost 27 million people in the UK watched the London opening ceremony.
That makes it the 13th most watched programme in British TV history.
It was also the most watched Olympic opening ceremony in the UK with five times more people watching the show than the ceremony in Beijing in 2008.
The biggest audience ever in the UK for a single programme was way back in 1986 when a mega 30.5 million people tuned into a special episode of EastEnders on Christmas day.
Inside the stadium 65,000 lucky ticket holders got to see the ceremony up close.
The show was rehearsed more than 200 times before the big day.
Each of the 7,500 volunteers had to spend around 150 hours practising in the run up to the show.