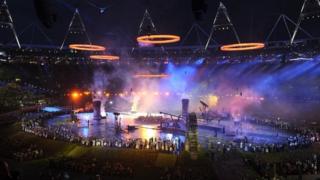 Massive ceremony opens Games
The London 2012 opening ceremony has kicked off the Olympic Games in style!
The Olympic bell starting the event was rung by Tour de France winner Bradley Wiggins in his yellow jersey.
The show then brought to life the history of Britain through dance, music and song.
Next came appearances from the Queen and James Bond, J K Rowling, Emeli Sande and Dizzee Rascal.
As the show began, its artistic director Danny Boyle pledged a ceremony with a theme of "this is for everyone".
The three-hour spectacle, capturing the best of Britain, was watched by a TV audience of one billion people.
Next the athletes taking part in the Games - led by the original home of Greece - made their laps of the stadium with their nations' flags.
Usain Bolt got a massive cheer from the crowd when he walked out into the stadium carrying Jamaica's flag.
At the end of the three-hour extravaganza the Queen declared the Games open and the Olympic cauldron was lit by some young Olympic hopefuls of the future.