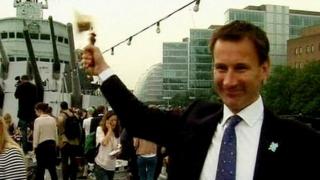 Politician's Olympic bell clanger
The government's Culture Secretary has had an Olympic nightmare. Jeremy Hunt was ringing a bell at an Olympic event when it snapped off its handle and flew into a nearby crowd.
He was at the All the Bells celebration where thousands of bells are rung out across the UK to mark the official start of the Olympic Games.
Writing later on Twitter, Mr Hunt said: "Oops bell broke taking part in Martin Creed's ringing in of the Games...no one hurt."
"It was a clanger, if you'll forgive the pun," he added.
Watch for the moment he realises what has just happened. Comedy gold...