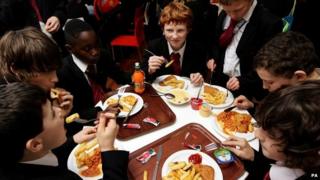 PA
Giving free school meals to everyone can help pupils do better in class, according to a new study.
Children in two areas of England were all given free lunches as part of a test over two years.
Researchers looked at the impact and found these kids were, on average, two months ahead in their learning compared to other areas.
The report suggested school lunches were healthier than packed lunches, meaning kids worked and behaved better.
The two areas where the test was conducted were Durham and Newham but at the moment free school meals are only offered to children in other parts of the country whose parents earn less than a certain amount of money.
A Department for Education spokeswoman said: "We are committed to ensuring that free school meals are available to those pupils who need them most."
But she added that it was too expensive to offer free school meals to everyone.
A third area, Wolverhampton, was also included in the study, but free school meals were only offered to an increased number of kids there and not everyone. There was little sign of change in pupils there.
The study was carried out by the National Centre for Social Research, the Institute of Fiscal Studies and Bryson Purdon Social Research.