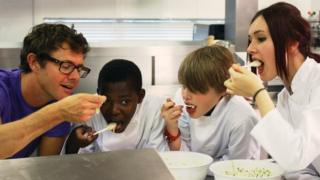 A new ice cream inspired by the Olympics is being served in Middlesbrough - but what goes into an Olympics inspired ice cream?
A bit of water from Tom Daley's diving pool? Pearls of sweat from Jessica Ennis' headband? David Beckham's tears?
Turns out the recipe for 'Aqua' is little more delicious than that.
The ice cream is being served at a CBBC party in Albert Park, Middlesbrough on Friday.
It was designed by Dominic on the CBBC Olympic Games Challenge and perfected by CBBC chef Stefan Gates.
CBBC iPlayer See the ice cream being made on CBBC's Olympic Games Challenge