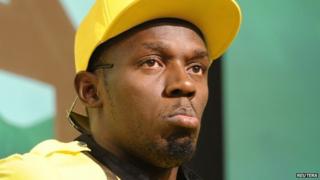 Reuters
The fastest man on Earth, Usain Bolt, has admitted he's only "95 per cent fit" going into the Olympics.
The Jamaican sprinter's been struggling with back and leg problems but insisted that he's in "great shape" and "ready to go."
The current 100m and 200m champion was beaten in both events at the Jamaican trials by training partner Yohan Blake.
Bolt said: "This is the moment that is going to define my entire life."
He later added "A lot of people say I am a legend, but this is going to define me as a legend."
Bolt hinted that he may go for four golds at London 2012 by taking part in the 4x400m relay, as well as the 4x100m.
He said: "If I feel like I'm up to it after the 200m, then why not? For my country, I would do it, if it was necessary."