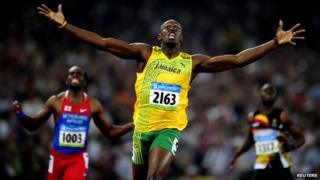 Reuters
Is Usain Bolt going to be fit for the Olympics? That's the question many people are asking amid rumours of back and leg problems affecting his fitness.
He's the fastest man on earth and the star attraction of London 2012 but injury is threatening to ruin his chances of becoming triple Olympic champ for the second time.
Bolt is reigning 100m and 200m champion but less than four weeks ago his training partner, Yohan Blake, beat him at the Jamaican trials in both distances.
He's been suffering from back and leg problems caused by a curve in his spine and on Tuesday he didn't show up to an open training session, raising questions about whether the injuries have taken a toll on his fitness levels.
But Jamaica track team doctor, Winston Dawes, has dismissed the rumours saying:
"He's back fully. He has been training very, very hard and his performance is on track."
"We expect he'll be fully fit by the time the Olympics come around."
Bolt stunned the world at the Beijing Olympics in 2008, winning both the 100m, 200m and 4x100m relay titles in world record times.
He'll be hoping to do it again at London 2012, but the question is, can the Lightning Bolt strike twice?