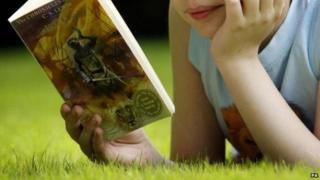 PA
An original copy of a book from The Chronicles of Narnia signed by the author CS Lewis has been sold at an auction.
The winning bidder paid £30,000 for the book which was one of the first to have been printed around 1950.
It was signed 'Jack Lewis' which is rare - Jack was the nickname CS Lewis used with close friends and family.
The stories of Peter, Susan, Edmund and Lucy were bestsellers for over 50 years.
In the first story - The Lion, The Witch and The Wardrobe - they find their way into a magical land called Narnia through the back of a wardrobe.
They have to battle against a witch, but are saved by Aslan the lion.
The story was made into theatre productions, TV dramas, and in 2005 became a Hollywood movie.
Two more Narnia movies were made - Prince Caspian in 2008 and Voyage of the Dawn Treader in 2010.