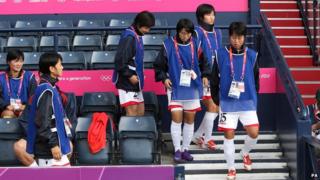 PA
Olympic organisers have apologised to the North Korean women's football team after their images were shown on a screen next to a South Korean flag.
Their players walked off the pitch in protest, and kick-off for their match against Colombia was delayed for more than an hour.
South Korean flags were shown on a big screen as the North Korean players were introduced.
North and South Korea have been at war for more than 60 years.
The North Korean players only returned to the pitch once their faces were shown next to right flag.
Speaking after the match, North Korea's coach Sin Ui Gun said: "Our team was not going to participate unless the problem was solved properly.
"Unfortunately it took some time for the broadcast to be done again properly and we made the decision to go on with the match."
London 2012 organisers said: "We will apologise to the team and the National Olympic Committee and steps will be taken to ensure this does not happen again."
What's the difference between North and South Korea?
North and South Korea may be countries next door to each other but they are extremely different nations.
They have never stopped being at war with each other after a big conflict between them in the 1950s.
Although they don't actually fight each other any more, the relationship between them is sensitive.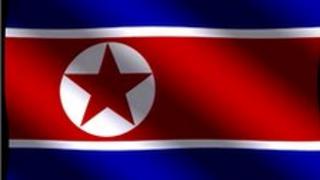 North Korea has a government run by one family, with strict rules about what people can and can't do. They have developed nuclear weapons and think very differently to South Korea, and western countries like Britain and America, about the way things should be done.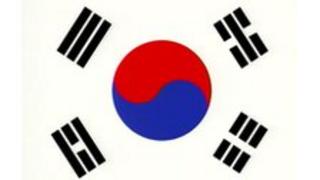 South Korea is one of Asia's richest countries and is known around the world making products like cars and mobile phones. Other nations like Britain and the US have a good relationship with the country.