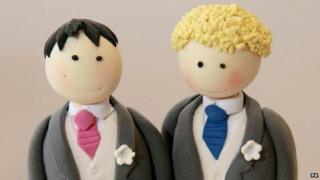 PA
Two men or two women will soon be allowed to marry in Scotland, under plans by the Scottish government.
Scottish National Party ministers have said they want Scotland to be the first part of the UK to allow gay marriage.
At the moment same-sex couples can only have a civil partnership - it means they get similar rights to married couples but it's not equal to marriage.
Some religious groups such as the Catholic Church and Church of Scotland are against the change.
Scotland's deputy first minister, Nicola Sturgeon, said: "We are committed to a Scotland that is fair and equal."
She said that the leaders of all the other parties in Scottish Parliament supported same-sex marriage too.
The announcement follows a big consultation where members of the public were asked about the issue.
It got 77,508 responses - the highest ever number for the Scottish government.