AP
Batman actor Christian Bale has visited Colorado in America to meet survivors of the cinema shooting.
The movie star thanked hospital staff and police officers in the city of Aurora for their hard work.
Bale and his wife Sibi Blazic also laid flowers at a makeshift memorial that's been set up near the scene.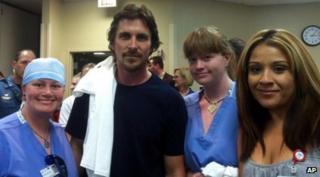 AP
An online campaign had been calling for Bale to visit following Friday's shooting during a screening of The Dark Knight Rises.
Read our advice on what to do if the news upsets you
He previously issued a statement saying: "Words cannot express the horror that I feel.
"I cannot begin to truly understand the pain and grief of the victims and their loved ones, but my heart goes out to them."
Twelve people died and 58 were injured when a gunman opened fire inside the cinema.
The 24-year-old man accused of carrying out the shooting appeared in court on Monday for the first time.