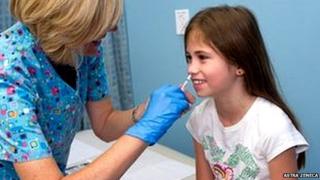 Astra Zeneca
Everyone in the UK aged between two and 17 years will soon be offered an annual needle-free flu vaccination.
But unlike normal immunisations, a nasal spray will be used rather than an injection.
The UK is thought to be the first country in the world to offer free flu immunisation to all children.
It's hoped the new vaccine will cut down the number of people admitted to hospital with flu and reduce deaths caused by the disease.
The new immunisations would begin in 2014 at the earliest.