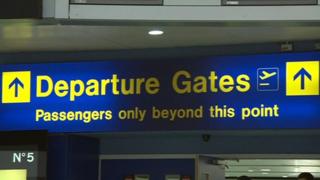 An 11-year-old boy got on a flight from Manchester to Rome on his own WITHOUT a passport, ticket or boarding pass.
He managed to sneak through Manchester Airport's security by mingling with a family on Tuesday afternoon.
The boy was only discovered when the Jet2 plane was in the air, after passengers became suspicious.
The airport has launched an investigation and some airline staff have been suspended.
An airport spokesperson said passenger safety was never at risk.
He said: "It is clear that documentation has not been checked correctly at security and the boarding gate.
"The boy went through full security screening, so the safety of passengers and the aircraft was never compromised."
The boy was flown home on Tuesday evening.
It's thought he'd run away from home.