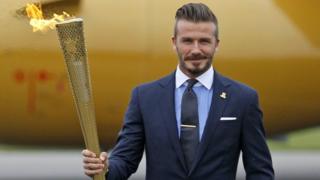 AP
David Beckham may have missed out on a place in Team GB's football team, but he's revealed he will be in the Olympic opening ceremony!
The former England captain wouldn't give away too much though.
He said: "It is some kind of role in the opening ceremony which I am honoured to be involved in because, obviously, I was involved in the start process with this seven years ago."
Becks helped London win the job of hosting the Games in 2005.
The 37-year-old was left out of Stuart Pearce's GB footie squad last month.
He said at the time: "Naturally I am very disappointed, but there will be no bigger supporter of the team than me."
The opening ceremony has a countryside theme so maybe we'll see Becks as a farmer!