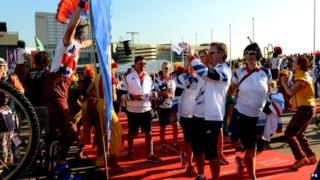 PA
Team GB have arrived at the Olympic Park athletes village ahead of the start of the Games on Friday.
The sports stars were welcomed with a ceremony of music and dancing and the Union Jack was raised to God Save the Queen.
Thousands of athletes from around the world are already at the village.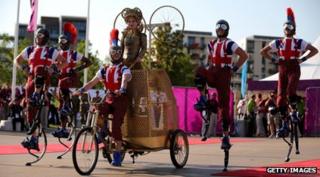 Getty Images
Andy Murray's brother Jamie Murray, who is playing doubles with his Wimbledon finalist brother Andy, said the ceremony was "very cool".
"I didn't have any idea what to expect really," he said. "They put on a great show - it was exciting, quite inspiring."
Middleweight boxer Anthony Ogogo said: "I thoroughly enjoyed it - all the colours, the dancing, they'd done a bit of Queen music - I was trying my hardest not to start trying to join in."
The welcoming ceremonies for athletes are being put on by a group of 160 performers from the National Youth Theatre of Great Britain.