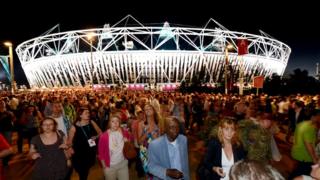 PA
Spectators who went to a rehearsal of the Olympic Games opening ceremony on Monday have been urged to keep what they saw a secret.
Danny Boyle, the ceremony's artistic director, asked the audience at the stadium in Straford to "save the surprise."
He asked them not to post images or videos online or send them to their friends, to make sure it doesn't spoil the event for everyone else.
Most people did as he asked but there have been some images posted on the internet but then removed shortly after.
The ceremony itself has went down well with the audience. One spectator tweeted:
"If you've got plans Friday night, cancel them. Opening ceremony is out of this world. Danny Boyle, I salute you."
Another audience member said the event was "breathtaking" and "awe inspiring".
The London 2012 Olympic Games opening ceremony will take place on Friday.
About 62,000 are set to attend and it is expected to be watched by an audience of billions worldwide.