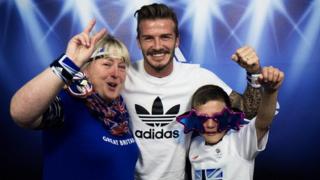 Beckham photo booth surprise
David Beckham surprised a mum and her son who were posing for a picture in a London photo booth.
Christian and his mum Elaine burst in to tears when they saw Beckham come out of the darkness.
They were posing at a photo booth in Westfield Stratford shopping centre near the Olympic Stadium.
The former England skipper and LA Galaxy player played the trick on 60 lucky people.
He said: "It was a unique experience for me and the people who took part and there were some great reactions when we surprised them in the photo booth."