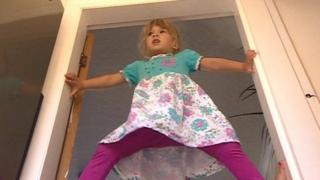 Door climbing girl an internet hit
A three-year-old girl from has become an internet sensation after video of her climbing up a door frame was a YouTube hit.
Sofya Dickson's father filmed her climbing a door frame, and now over 210,000 viewers across the world have watched the video.
Her Dad watches her and puts pillows on the floor to keep her safe when she climbs up. Sofya says it is hard but she enjoys it and it is not scary.
Mr Dickson said he put the video on the internet after Sofya stunned both him and his wife with her skills.
Her father Peter said the global interest, including US TV firms, had been "bizarre" and "very strange".
Don't try this at home.